Your next journey is closer than you think. Just 45 minutes south of Reno and only 12 miles east of South Lake Tahoe, Carson Valley offers an abundance of authentic adventure. You'll find us nestled near the eastern Sierra Nevada Mountains, in Douglas County, Nevada. Come to know that place where adventures appear fresh daily, where real characters introduce you to wild horses, trails, glider rides, and the perfect bar stool for recounting your legendary day. Easy to find and hard to forget!
Carson Valley Map
Check out how one family road tripped the Reno-Tahoe territory and found the pocket of Carson Valley to be a hidden gem.
Read how one writer from the Daily Beast made the loop from Virginia City to Lake Tahoe, discovering intrigue, charm and authenticity in Carson Valley.
Explore One Destination, Four Communities
Gardnerville
Genoa
Minden
Topaz Lake
Gardnerville
In 1879, Lawrence Gilman purchased the Kent House, located at the time just south of Genoa, thought to be haunted by a stagecoach-robbing ghost. After acquiring land from John M. Gardner, Gilman moved the house to the new site. The Kent House became the Gardnerville Hotel – and the town of
Gardnerville
was born. Although the old hotel no longer stands, the community spirit lives on; we don't know about the ghost. Basque dining, sports parks, visitor friendly farms, and a new community center make the town a vibrant destination.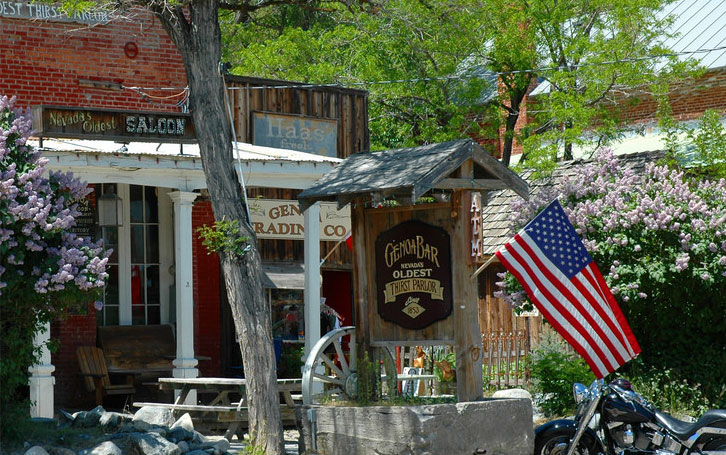 Genoa
Originally established in 1851, the first recorded settlement in Nevada was named Mormon Station, then renamed
Genoa
in 1855 after the birthplace of Christopher Columbus. Genoa was the eastern terminus of frontier mailman John "Snowshoe" Thompson's route from 1856-1876. Thompson was the first man to ski the Tahoe backcountry and the same peaks that make up our world-famous ski resorts; Heavenly Mountain Resort, Sierra-at-Tahoe, and Kirkwood Mountain Resort. Explore the town's rich past or get acquainted with a growing culture of food, arts and entertainment. 
Minden
Named after Minden, Germany, near the birthplace of H.F. Dangberg, Sr., H.F. Dangberg, Jr. had a vision of community and culture. From 1906-1940 the Minden Inn was frequented by Hollywood stars including Clark Gable and Jean Harlow. Minden Park and Esmerelda Avenue are still the center of this Carson Valley town. You can tour the Dangberg Home Ranch and get a taste of the life of an early ranching family. An upcoming distillery, art center, casino gaming and shopping are just a few of the activities on hand to complement any stay.
Topaz Lake
Jedediah Smith was the first non-native to traverse the Sierra Nevada, and in spring of 1827 his route took him southeast through Monitor Pass and east past
Topaz Lake
. Now a man-made reservoir, Topaz Lake was a remnant of a prehistoric sea. Located just south of Gardnerville, Topaz Lake Park is a water sports destination. Known for fishing, water skiing, wakeboarding and camping, Topaz Lake is a stunning oasis where views abound between the arid Great Basin to the east and the towering Sierra Nevada to the west.  
What's a Place Without its People?