The Pine Nut Mountain Range delineates the East edge of the Carson Valley and runs from the Carson River in the north for 40 miles to Topaz Lake in the south. It is one of the hundreds of mountain ranges that make up the vast geographic province known as the Great Basin. The defining characteristic of this area, which encompasses all of Northern Nevada and nearly all of the entire state, is that there are hundreds of mountain ranges separated by deep dry valleys and none of the water that falls on this area ever reaches the ocean.
Here in the Pine Nut Mountains above Carson Valley, there are spectacular views of the Sierra Nevada mountain range, Verdant farmland along the Carson River, and the vast basin and range extending East across Nevada.
Today, we're on the Sunrise Pass Road road, which connects the Carson Valley with the Smith Valley, cresting the Pine Nut Mountains on the way.
The road starts at the Johnson Lane OHV Park at the East end of Johnson Lane. To get here, travel north from Minden, Nevada, on US HWY 395 for about 5 miles and turn right on Johnson Lane. The road turns to dirt at the off-road staging area.
Sunrise Pass Road is a graded dirt road and is passable by any AWD car or SUV suitable for dirt road travel.
SAFETY AND PREPAREDNESS
When traveling on roads like this, there are a few things you should take into consideration.
First, do you have a spare tire? Getting a flat tire on a road like this is a real possibility. Be prepared.
Second, do you have water and snacks? Back road travel is a lot nicer if you have snacks drinks, and are prepared to have a picnic.
Third, You will not have a cell phone signal when you get close to the pass. Know where you are going and tell someone where you went. It's also good to have 2-way radios to communicate between vehicles if you are traveling in a group.
Fourth, These roads are used on a daily basis by ranchers, landowners, other explorers, and ATV/UTV riders. Expect to see other traffic on the road and drive accordingly.
SXS SAFETY
If you're traveling in an off-highway vehicle like a Polaris RZR there are a few things you might consider as well.
First, I recommend wearing helmets and goggles. Helmets are in fact required by all ATV operators and passengers in Nevada. The helmets protect you if you crash, which might not be all that likely, but also protect you from hitting your head on the roll bars and structure of the vehicle, which is more likely. And the goggles are pretty necessary with all the dust and sand that gets flung up in your face.
Second, Fill your tank before you go, and don't bring extra fuel. These sxs vehicles run hot, and there's no good way to carry extra fuel safely without modification.
Third, keep your speed under control. This whole area is open to vehicles, bikes, hikers, equestrians, and other OHVs, and you should expect 2-way traffic at all times.
SUNRISE PASS DIRECTIONS
Once you start up the Sunrise Pass Road, follow the most well-traveled path. The road is marked at the start, and it is labeled on the Gaia GPS Map, Google Maps, Apple Maps and the On-X Off-Road Map.
For mile-by-mile directions, get this book, Nevada Trails Western Region guidebook. You can order it through your local bookstore or find it on Amazon.
Be sure to cache the maps to your phone before heading out, as you might not be able to access an internet connection on this road.
From the start of the trail, the road comes quickly to two spots you might want to check out.
PAINTED ROCK
First Is Painted Rock Mine. This is so named for the large painted rock and the mine behind it. This location is on Native American land, and as of the day we shot this video, there are no signs or gates limiting access. We were able to drive through the mine site and check it out. It looks like other activities are common there, but we made a quick pass and moved on.
HILL CLIMB
The next spot you come to that you'll want to check out is this hill climb.
In general, stay on designated routes or existing roads when exploring areas like this. Roads like these are OK if they are not specifically signed as closed or restricted. If you have an appropriate vehicle, you can give this hill climb a try. Any SXS should be able to get up this hill, and we were able to get up it on our Tacoma. It's not necessarily an entry-level 4×4 obstacle…
PINYON PINES
The Pine Nut Mountains are named for the Single Leaf Pinyon Pine, that is the dominant tree in the upper elevations of the range.
The Pinyon is unique among pine trees for having a single needle rather than pairs or more. The Pinyon Pine produces a small nut, which this mountain range is named for. The pine nut is small and has a thin, hard shell. It is a traditional food for Native Americans and has long been a staple in their diet and culture.
Lower on the mountain flanks, the ecosystem is dominated by Sagebrush and Juniper, and upper areas are dominated by the Pinyon-Juniper woodland plant community, which is a hallmark of Great Basin Ecology.
THE ROAD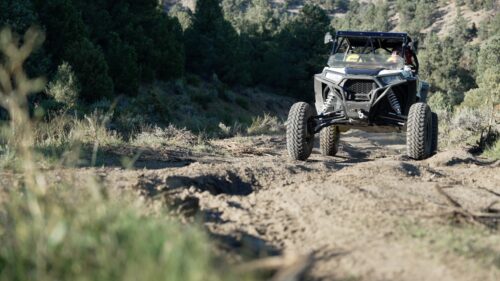 As you climb higher on the mountain towards Sunrise Pass, the road gets steeper and enters several canyons. Much of this mountain range is public land managed by the Bureau of Land Management. But much of it is also private land. Mapping apps like Gaia GPS and On X Off-Road have map layers that let you know the ownership of the land around you but heed no trespassing signs and closed gates as those have the last word.
END OF THE ROAD
As you get farther into the Sunrise Pass road, the condition of the road deteriorates. The heavy winter of 2023 left this muddy section that is impassible by all but the most capable of off-road vehicles.
There was a bypass when we went through, but it was also difficult enough to deter lower-clearance SUVs and cars. So proceed with caution when the going gets rough. The road is also fairly rocky as you near the pass and steep and rutted as you head down the other side. This is either a welcome uptick in adventure, or a sign that it's time to turn back.
Sunrise Pass road continues down the gentle east flank of the pine nut range and connects with the paved Lower Colony road in Smith Valley. From there, you can head south toward Wellington, NV, and complete a loop back to Carson Valley via Route 208 and HWY 395, passing scenic Topaz Lake along the way.
We wanted to make this a loop, though, and a more interesting one at that, so we decided to take this side road and loop back to the West side. This road follows power lines and is rough but passable by most 4x4s and capable SUVs.
There are several places where you can cut this side excursion short and head back to the main road, or you can explore the roads that head south along the West flank of the range. I have not explored these areas, but as long as there are roads and the land is open, you're free to roam.
MUSTANGS
One uniquely Nevada experience is seeing mustangs roaming the range, and the Pine Nut Mountains are home to a number of bands of these wild horses.
A number of wild horses live in the Pine Nut Mountains and can usually be seen grazing or looking for water. These mustangs are a favorite attraction to the area and are great to see and make for stunning photographs and memorable experiences. If you do see mustangs on your visit to the Pine Nut Mountains, please keep your distance and avoid interacting with them in any way. It is illegal to feed, water, or harass wild horses on the range.
CONCLUSION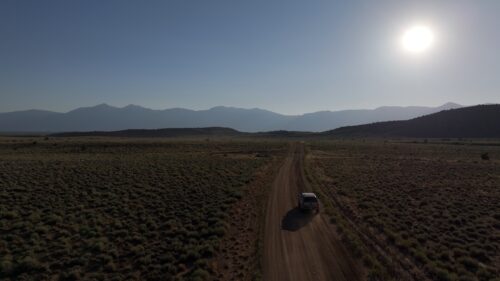 If the day gets away from you and you end up near the end of the trail when the sun is going down, this spot not far from the Johnson Lane staging area is a great place to take in scenic views of the Carson Valley and the Sierra Nevada Mountains. I hope you enjoyed your day in the Pine Nut Mountains on Sunrise Pass Road. Thank you for watching, and happy trails from the All-Terrain Family. Time to explore the Nevada ohv trails.