The heartbeat of one of Nevada's strongest cultural identities pounds on in Carson Valley. 
Nestled in downtown Gardnerville's main street historic district, discover one of the Silver State's most charming cultures and cuisines alike at the legendary JT Basque Bar & Dining Room. A permanent fixture of the downtown Gardnerville scene for 125-years-and-counting, you'll know you're in the right place when you cross that weathered wooden threshold and into a lively bar scene packed with loyal fans, all ponied up for the unofficial state drink of Nevada, garlic-loaded steaks, mint-jelly-adorned fall-off-the-bone lamb chops, flowing red table wine, and stories that run generations deep to go right along with it. 
It's here where you can rely upon closely guarded family recipes worth traveling for, a type of cheery small-town hospitality that can't be bought, lasting legacies, and as many Picon Punch as you can muster all 12 months of the year. So! Ready to dig into Nevada Basque? With a Nevada institution this storied, we can't say we blame ya.
Say Hello to Nevada Basque
Nevada's a big place. And from Jarbidge to Laughlin, and Reno to Baker, there's an even bigger list of cultural identities to go right along with it. You may have already heard of Las Vegas mobsters, Elko buckaroos, or even a few counter-cultural legends ranging from aliens, to Miss Atomic Bomb, or even Tahoe Tessie. But what about Nevada Basque? The good news is, if your trip brings you to northwestern Nevada, there's no better place to learn about one of Nevada's most animated cultures than from the very descendants of the folks who first brought it here more than a century ago.
Like many other Europeans seeking their American dream, the Basque people of the French and Spanish Pyrenees arrived in the American West in the late 1800s. While some tried their luck at prospecting and other Western industries of the era, many Basques saw a different kind of opportunity in Nevada's mountainous terrain and turned to what they already knew as a means of survival: sheepherding. Tending to their flocks in northern Nevada's hundreds of mountain ranges, Basque sheepherders lived a lonely lifestyle out in the Great Basin, where they would spend months on end in the mountains alone before eventually returning to nearby towns to restock on supplies, and find community. 
The Nevada Basque boardinghouse was a beacon for a good night's rest, a traditional meal from the Old Country, and togetherness. Here, they slept in bunks together, ate meals family-style, played games, danced, and celebrated their culture with one another, which was a welcomed change after spending months in isolation.
Now, more than 100 years later, not much has changed whether you're an old Basque sheepherder or not. At least not when it comes to JT Basque in Gardnerville, where you can count on reliably delicious food, flowing cocktails, a bar counter full of Basques, and a welcoming sense of belonging whether it's your first or hundredth visit. 
JT Basque Gardnerville History
Even though you could once find a Basque boardinghouse at just about every town across northern Nevada, JT Basque in Gardnerville finds itself in the company of about five or less Basque boardinghouses that remain open across Nevada today—well, at least the downstairs restaurant portion, anyway. While all of them carry their own special legacies, earning their own sterling place in the Nevada history books, you won't find an older Nevada Basque boardinghouse than JT's. 
Gardnerville's origin story dates back to the late 1870s, which is right around the time Virginia City's Comstock Lode silver discovery had already peaked and most of the town's most famous occupants had already moved on. In a state with not many natural forests and a reliable timber supply, it was totally ordinary to move entire buildings across town or even to another town, which is how the building JT Basque first arrived in Gardnerville more than 125 years ago. First operated by Hans Nelson as a sheepherder's hotel, saloon, and dining hall, the Lekumberry family then took ownership, giving this Gardnerville icon its Basque identity in 1960. 
And just like the thousands of other Basques that had arrived in Nevada as sheepherders all those decades ago, owner Jean Lekumberry's story was no different. He immigrated to America and arrived in Gardnerville at 22 years old with just $32 in his pocket, and turned to sheepherding as a means of survival before he and his brother Pete were able to purchase the old sheepherder's hotel downtown. Honoring the Basque owners ahead of him—the Jaunsaras and Trounday families—he kept J.T. in the name, and well, the rest is history.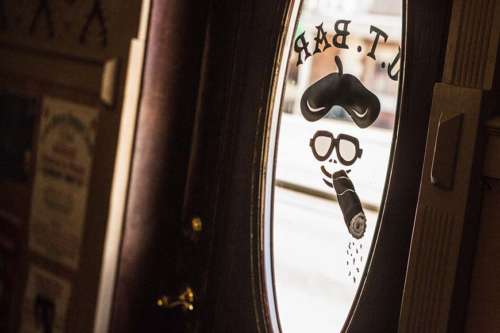 Back then, there were all kinds of Basque inn-keepers all over the state and throughout downtown Gardnerville, and the pair was excited to retire from sheepherding and rejoin their community from their community. While Jean served drinks from behind the bar, old-time Gardnerville folks will know you would always find his brother Pete back in the kitchen, while Jean's wife Shirley greeted guests in the dining room and ran Basque hotel upstairs. Jean and Shirley went on to raise their three children here—Robert, Marie Louise, and J.B. And, having learned from their family, you'll find J.B. back in the kitchen, and Marie Louise welcoming you into the dining room and seating you family-style, just the same as the millions of Basque-lovers before you.
Basque Tradition, 125 years-and-counting
So what is a Basque dinner, anyway? If getting to know a culture through its food is part of the deal, count us all the way in. Just the same as it would've been visiting a Basque boardinghouse all those years ago, everything at JT Basque is still done family-style, which means you'll be seated with your group, and a long table full of a bunch of folks you don't know, which is all part of the fun—the celebration and ritual of eating Basque. Well that, and all the heavenly food you're about to savor.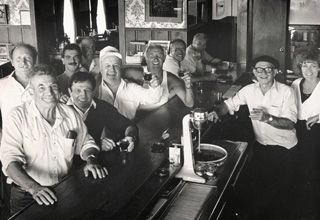 Most Basque family-style fare revolves around one tasty entree of your choice—you know, one of those safely guarded secret family recipes from the Old Country that are so dang delicious you can never quite figure out what they use to make it so good. Think options like juicy steaks, fall-off-the-bone lamb shanks, perfectly seasoned roasted chicken, sweetbreads, and sometimes even a seafood special, with one shared ingredient: garlic, and lots of it. Once you've settled on your main entree choice, prepare to feast on a smorgasbord of traditional Basque courses, which can sometimes vary based on which Nevada Basque location you've landed at. At the JT, that usually means a vegetable soup, fresh salad, golden fries, hardy stew, delicious beans, loads of fresh bread, and flowing red table wine. Everything is meant to be shared, so grab a plate, pass those shareables around, and prepare to rub elbows with your new tablemates—you're in for an adventurous evening and an even better memory in the hours up ahead.
Picon Punch, Gardnerville Style
It's no secret Silver State pride runs deep, so deep in fact, that a few folks tried to make the Picon Punch Nevada's official state drink back in the 2013 legislative session. Even though it failed in the "official" sense, it's a Nevada rite of passage to order one up and drink it down. And while you're at one of Nevada's most famous Basque restaurants, why not order up this iconic cocktail?
So what is a Picon Punch, anyway, you might be asking. For starters, make sure you order one up with confidence like a pro—it's not pronounced like pecan pie, but rather Pi-Kahn. Dreamt up by Basque immigrants (and surprisingly not really something they even know about or drink in the Old Country) the Picon Punch was originally made with a now hard-to-find Amer Picon—a spicy, orange-flavored liqueur from Marseille, France. Today, Picons are made with Torani Amer liqueur, then drowned in brandy and served with a lemon twist in a tulip glass. Basically, it's a strong glass of straight liquor that comes with its very own mantra most Nevadans will happily tell you: "one is not enough, and three is too many."
In Nevada, it's totally common to order up a Picon "Elko-Style" or, around here, "Gardnerville-Style" which is the fun in it because each Nevada Basque joint proudly has their own special twist on Nevada's unofficial state drink. Some begin making the drink by coating the ice with grenadine, while others pour a soda floater, rub the edge of the glass with the lemon twist, or even stir it a calculated number of times. Around here, Gardnerville-Style means they'll serve you the same classic Picon recipe, but in a short highball glass instead of a tulip glass—we swear it somehow makes this very potent drink smoother, even to the most seasoned Picon imbiber. 
Whether you've got an hour or two or the whole evening, the next time you find yourself in Carson Valley be sure to stop in and order up one of those famous steak sandwiches for lunch. Or better yet, settle into that cozy, century-old dollar bill-covered dining room and hoist up a Picon in the name of Nevada Basques. 
Ready to dig into even more Carson Valley eats? Get the full lowdown right here.
JT Basque Bar & Dining Room
1426 US 395
Gardnerville, NV 89410
(775) 782-2074