Ever experienced a Nevada hot spring? Whether you're on the soaked-'em-all end of the natural hot springs spectrum, or it's your first time dipping a digit into Nevada's countless hot springs sources—a landscape that beholds the most in America, by the way—there's no visiting the Silver State without a proper soak in Nevada's oldest, and most historic hot springs resort.
Nestled in the foothills of the Eastern Sierra, relaxation-seekers, history-lovers, and the hot water obsessed alike will find refuge in David Walley's Resort. As rich as Genoa, NV histories (Nevada's oldest town), it's here and only here where you'll find the oldest, still-standing hot springs resort in Nevada borders, flowing mineral waters celebrated for their holistic properties, and Pony Express and Mark Twain legacies, right along with decadent on-site dining and luxury overnight accommodations. In other words, at this Carson Valley rite of passage, come for the hot water, and stay for the luxury history lesson. 
David Walley's History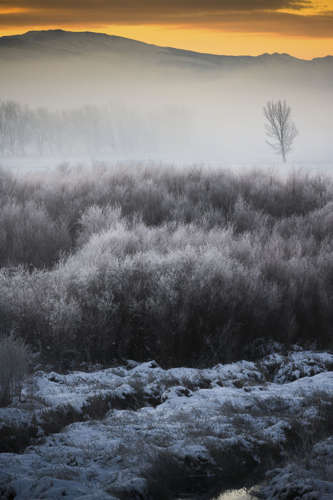 "It is with greatest pleasure that I contribute an article in your valuable paper in regard to Walley's Hot Springs, situated one and a half miles from Genoa, Douglas County, Nevada. These springs, without a doubt, have no equal on this coast for the cure of rheumatism and all afflictions that necessitate me visiting them. I now leave without crutch or cane, entirely well, not only relieved from pain but gained in spirit." – Mark Twain, 1887
So Mark Twain actually soaked here? Definitely not a typo—you absolutely read right. Samuel Clemens (who would become Mark Twain while he lived in Nevada) arrived in Nevada before it was even officially a state. He and his brother, Orion Clemens, first came to the Nevada Territory in 1861 to serve as Nevada's first and only Secretary of the Nevada Territory, while Samuel spent most of his time here trying (and failing at) prospecting in Virginia City, Aurora, and Unionville, exploring the Lake Tahoe region during a prolific timber boom, before finally discovering his writing talents and taking the pen name Mark Twain while he worked for Virginia City's Territorial Enterprise. 
As one of the most famous writers of his time (with even more posthumous notoriety), having Twain's satirical stamp of approval was not something to be taken lightly—now more than 130 years later, his summation of his David Walley's experience sure makes you want to wade right in, doesn't it? But the truth is, David Walley's Hot Springs has been sacred for far longer than Twain's first visit back in 1887.
Nevada hot springs have been part of the Great Basin story for centuries, whose first visitors were Nevada's indigenous people. Most American Indian tribes in this part of the world—in Nevada, that's the Northern Paiute, Washoe, Western Shoshone, and Southern Paiute—would move through modern-day Nevada with the change of seasons, knowing that staying in one location for the entire year promised inhospitable conditions. The Washoe were some of the first people to take advantage of the natural hot springs in the Reno-Tahoe region, including modern-day Steamboat Hot Springs, Carson Hot Springs, and David Walley's hot springs. Next came the Euro-American explorers, followed by the Westward-bound pioneers following the California Trail through the Carson Valley region.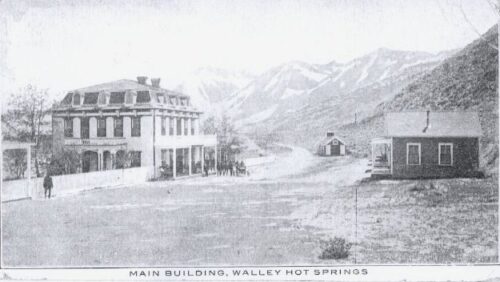 During the late 1800s, especially during a time when nearby silver barons depended on a workforce who constantly worked in dangerous conditions, a new approach to health and welfare basically swept America with a shift in wellness that included new practices. Fresh air, daylight, and even flowing, mineral-rich thermal waters became part of mainstream wellness recoveries, which prompted the development of thousands of hot springs resorts and luxury bath houses all across America. Some super-famous examples include those in Hot Springs Arkansas, where the famous and elite would go to seek cures for polio, like President Theodore Roosevelt, for example.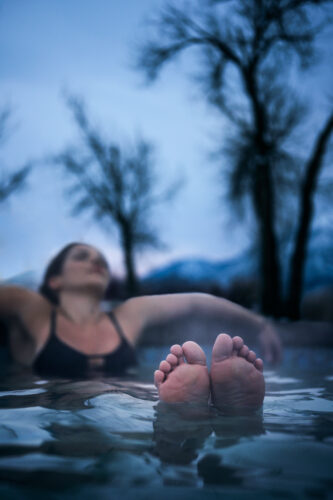 Nevada was no exception for this new frontier of wellness, and with Genoa, NV off and roaring (the first official settlement in Nevada borders) along with the Carson branch of the Emigrant Trail (the same route those legendary Pony Express riders galloped) running right through the region, it wasn't long before a young, enthusiastic David Walley saw promise in a steamy fault break along the Eastern Sierra. Located only 1.5 miles from his home in Genoa, Walley soaked in the natural hot springs' therapeutic promises, and began promoting the hot springs, charging 50 cents per bath. In 1862, he and his wife Harriet Walley developed a $100,000 hotel-spa with 40 rooms, 11 baths and a swimming pool, a ballroom, a large stable, opulent gardens, and even a full time physician and masseuse, attracting Comstock millionaires and the rest of the Virginia City in-crowd seeking en vogue wellness regiments. It was practically an overnight success, and immediately became a well known cure of "rheumatism and scrofulous affections." Say that five times fast.
Right around the same time, other Nevada hot springs saw wellness-style development, including Steamboat Hot Springs (Reno) and even Carson Hot Springs (Carson City, NV), but there's no mistaking David Walley's was Nevada's first and oldest luxury resort-hotel. While Steamboat Hot Springs opened just one year before David Walley's, it first opened as a hospital, then later reopened under new ownership as a hotel after David Walley's had already long-welcomed celebrities and socialites of the West by the tune of about a decade. The development of Carson Hot Springs came later, in 1880.
The hotel welcomed guests from all over the West and world (even Baby Face Nelson, who hid out at the hot springs for a whole month, many US Presidents, Clark Gable and Carole Lombard) until, like just about every place else in Nevada, David Walley's met a fiery fate in 1935. The original hotel burned, but was rebuilt and has welcomed hot water worshipers ever since.
Still Soaking in Luxury: Experiencing David Walley's 1862 Hot Springs Today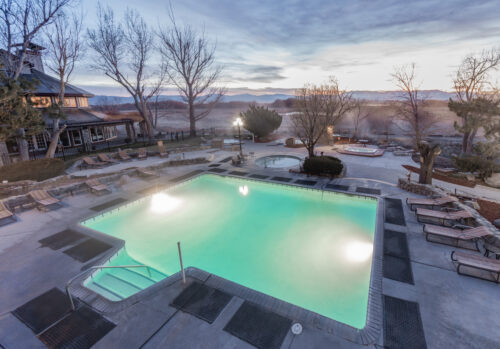 Even though original historic structures were devastatingly lost to fire, now almost 100 years ago, one thing hasn't changed at David Walley's: the water. From hundreds of pioneer journals detailing Nevada hot springs stopovers to Mark Twain's charismatic chronicles, there's no denying it—something ethereal happens when you luxuriate in flowing thermal waters, especially when it includes a sunset view of Jobs Peak, or watching the Milky Way rise from a hot tub.  
So, what's really in the water? Even though there are more than a few antiquated medical practices from the 1860s, the mineral prowess at David Walley's isn't one of them. Here, the natural hot springs water contains potassium and sodium, which has been proven to eliminate toxins, and even ease arthritic conditions. Better yet, the main mineral found at David Walley's is sulfur, which has been medically proven to help with keratin stimulation, meaning a soak here promotes healthy skin, and strong hair and nails, too. At David Walley's, kick back in a huge hot spring-filled pool, or take your pick from four different smaller hot tub-style pools, all featuring different temperatures. Tub hop, or commit to the temperature of your liking—no matter where you end up, there's no bad view of the rugged peaks Carson Valley is known for.
Unique Places to Stay in Nevada: David Walley's Hot Springs Hotel
David Walley's Resort is located about a mile and a half from the Genoa Historic District, where the modern day Nevada story all began more than 170 years ago, and part of spectacular Carson Valley, which promises four destinations in one. Together with Genoa and where the West meets outdoor feats, Carson Valley offers distinctive attractions in Minden, Gardnerville, and even Topaz Lake all 12 months of the year, and is located about an hour south of Reno and only 16 miles from South Lake Tahoe. 
Making a day out of it is easy at David Walley's, where you can rely upon everlasting hot springs filled-pools every month of the year, making for the perfect way to raise a glass to summer in the Eastern Sierra, and even better, one unrivaled Lake Tahoe aprés ski experience. David Walley's offers plenty of free parking for day guests, and even boasts a paved bike trail that connects right to the heart of downtown Genoa. But a hot springs hotel? There's no beating this unique place to stay in Nevada—the oldest, and only hot springs hotel in all of Nevada. 
Cozy into spacious studios, one-and-two bedroom villas, or really live it up large with the whole fam from two-or-three bedroom cottages in the heart of Nevada's oldest town. Then dig into delicious food and drink from a historic on-site lodge that offers casual and formal dining options from the 1862 Restaurant and Saloon. Think fine-dining dishes like filet mignon, prime rib, fresh salads, sandwiches and burgers, all with a side of unblemished mountain views, and of course, unending thermal waters. 
Ready to pull the trigger? Make your David Walley's reservation right here.
David Walley's Resort
2001 Foothill Road
Genoa, NV 89411
(855) 516-1090