Three Reasons to Visit Genoa Cemetery (Besides Snowshoe Thompson)
The most famous inhabitant of the Old Genoa Cemetery is Snowshoe Thompson — a grave visited so often that special signs now point the way! But here are three more reasons you might want to pay a visit to the Genoa Cemetery next time you're in town: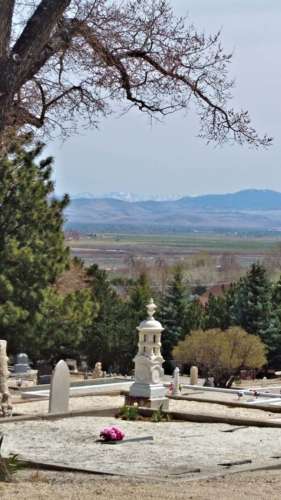 1. It's Beautiful.
From gorgeous spring flowers to the gentle deer that make it home, this peaceful graveyard is just plain beautiful. You'll want to admire the vintage details on ornate metal fences and elaborately carved headstones. Winter or summer, there's always something special to see here – – and beautiful things to record. So be sure to bring your camera.
2. It's History.
The welcoming arch over the Old Genoa Cemetery's entrance dates it to 1865, and the very first burials here might be even older. They say a town's history can be found in its graveyard, and that's ever-so- true here in Genoa. A stroll through this old cemetery is a great way to get acquainted with the early history of
Carson Valley — sometimes humorously dubbed "Cousin Valley" for the close relationships among pioneering families!
Here you can find the monument for David Walley, founder of Walley's Hot Springs. A proud black pillar (said to have been brought all the way from France) commemorates the Adams family, whose kiln provided the brick for many early buildings in Genoa and Carson City. Also, keep your eye out for "Fiddler" Carl Taylor's headstone, a gifted musician who used to play at weddings and dances all over the Valley in the 1880s (when he wasn't too tipsy to play!) It's all part of the history of this fascinating area.
3. It's Fun Solving History's Mysteries.
Not every grave in the Genoa Cemetery is identified — sometimes only tiny clues remain! Many of its old wooden headstones were rounded up and burned by a well-intentioned "clean-up crew" during the Great Depression. A few wooden headstones have survived, however, and cemetery officials have helpfully marked partially-identified and unknown burials where possible.
Just recently, an old newspaper article from 1897 allowed cemetery officials to find names for three graves enclosed in a rectangle of eight granite pillars. And old photos, oral histories, letters and other information might identify others in the future! You can help, simply by putting the word out. We never know whose attic might contain additional helpful information!
Like to learn more about Genoa's classic cemetery and the fascinating folks who are buried there? Pick up a copy of "The Old Genoa Cemetery." The first in a four-volume series, this softcover book provides a virtual tour of the southernmost section of the cemetery, a perfect guide to take with you as you stroll the cemetery. Written in 2017 by an all-star team of local history fans, it's available at Carson Valley Museum & Cultural Center, Dangberg Home Ranch Historic Park, Shelby's Book Shoppe, and online at www.clairitage.com.
Story by Karen Dustman, a writer and author who shares her passion for local history through her books, website, blog and free history newsletter. Find out more at www.CLAIRITAGE.com.