Looking for a day in the dirt? Carson Valley is the perfect place for off-road riders of all skill levels to twist some grips and find adventure. Whether you're in an OHV (off-highway vehicle), ATV (all-terrain vehicle), UTV (utility side-by-side), or a dirt bike enthusiast you'll find just what you need to get out in the dirt.  From the towering Sierra Nevada to the rugged Pine Nut Mountain Range, we have all the sand, mud, and dirt you could ask for. Read on for tips from valley locals.
Genoa Peak
Offering killer views of Carson Valley and Lake Tahoe, Genoa Peak Trail may be the least challenging, yet most aesthetically pleasing trail we have to offer. Consisting of mostly soft, smooth single track trails, Genoa Peak is a favorite spot for mountain bikers and dirt bike riders alike. With about 10 miles of upper elevation roads in heavy forest, you can find your own spot to soak up the scenic spirit of Northern Nevada while you and your bike take in the cool mountain air. At the end of the day it's a great ride, but you may just wish there was more of it. To get to Genoa Peak Road, turn west onto State Route 207 and continue 11.5 miles to turn north on N. Benjamin Drive. From there continue another 1.5 miles to where N. Benjamin Drive becomes Andria Drive. The staging area is on the left.
Unlike many Carson Valley trails, Genoa Peak may be closed during the winter and early spring due to the heavy snow that allows for our incredible winter recreation. Don't let the Sierra snow stop you from getting out in the dirt. Read on for great year-round riding.
Johnson Lane Riding Area
Arranged in a seemingly endless combination of arm-pump inducing sand washes, turns, berms, ruts, and whoops, the Johnson Lane Riding Area is the perfect desert access for the whole family. The main staging area offers appetizers for all skill levels with small jumps, sandy tracks, and nearby hill-climbs while the surrounding desert covers the main course with miles of trails that vary in difficulty.
You'll want to keep your speed up and weight back while you and your friends snake through the desert landscape. Following the dry riverbed that extends for several miles to the east, you can click through your gears while intersecting some great single track suited for the more technical rider. To get to the Johnson Lane Riding Area, turn west onto Johnson Lane from Highway 395 and follow it past the gas station, all the way down to where the pavement ends. Many people use this as a staging area before unloading and heading off into the trails but feel free to continue down the dirt road to find your own spot.
A top quality of Johnson Lane is its central location. Many more trails can be found, including Sunrise Pass road to the east. Sunrise Pass road takes you to the saddle between Carson and Smith Valleys for breathtaking views. Alternatively, if you follow the double track leading south, you'll soon find yourself riding in the Mt. Siegel portion of the Pine Nut Mountains.
Mt. Siegel OHV Trail
Consisting mostly of rolling hills and sand washes, the Mt. Siegel OHV Trail ranges in width from single to double track with a few fire roads cut into the rough landscape. Recent wildfires have scorched a path at the base of Mt. Siegel, creating a dynamic riding experience during your ascent to the summit (for your safety be sure to obey closed areas).
Beginners may want to spend their time in the more forgiving sand washes, berms, and trails of the lower valley. Experienced riders might want to take a crack at climbing Mt. Siegel. Don't be surprised if you see a sheepherder with his flock on the way up, just show 'em some respect and don't startle the sheep. To get to the Mt. Siegel OHV staging area, turn east onto Muller Parkway from Highway 395 and take a right turn at the roundabout onto Pinenut Road. Continue just over a mile before turning left onto Pinenut Road 2. The staging area is just under a mile on the left with multiple signs. There's a trail map with more detailed information in another staging area a quarter of a mile further down Pinenut Road 2 on the right.
What Else?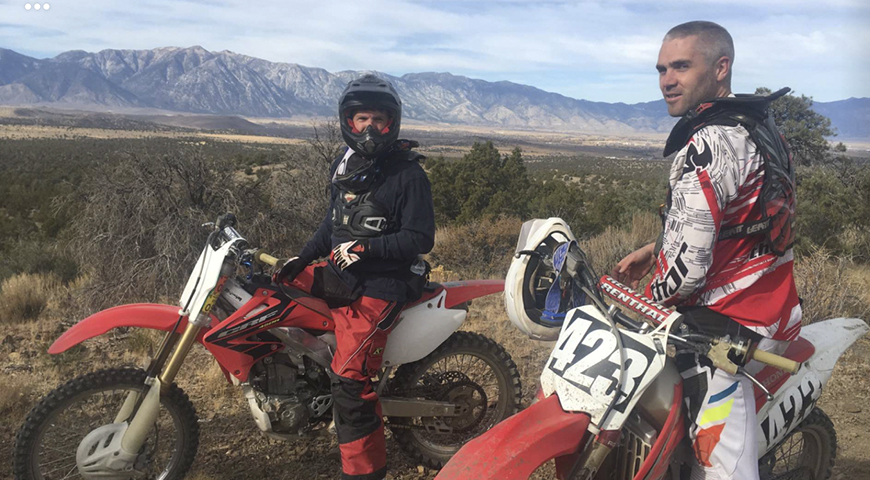 Don't forget to register your bike before throwing your leg over the seat. If your bike is already registered in another state, you can ride in Nevada for up to 15 days. For more information, visit https://ohv.nv.gov/faq.
Before heading out for your off-road thrills, let's go over the essentials. A healthy respect for nature, some water, and a charged cell phone are a good place to start. So is a full tank of gas. And while you can't plan for every setback, a multi-tool goes a long way.
Please pack out what you pack in so that future riders can enjoy the same great sights and experiences. Local groups like the Pine Nut Mountain Trail Association remove literally tons of trash each year that would otherwise spoil the pristine landscape and close major portions of our trails for years to come. Visit Tread Lightly for tips on responsible outdoor recreation.
Get more information on exploring the Pine Nut Mountain Range here. 
For off-road parts, apparel, advise, or even a bike, don't hesitate to stop by Testa Motorsports in Minden or Carson Motorsports on Jacks Valley Road.
For those looking to fill up before riding, Katie's Country Kitchen at the Carson Valley Inn has everything you need.
Hungry after a long day of riding? Carson Valley has a wide range of restaurants to choose from. Looking for a burger and some beer? Make sure to stop by Minden Meat and Deli on Highway 395 North in Minden and enjoy one of their 31 craft beers on tap.
Seasoned adventures can be found under a ceiling of dollar bills at the JT Basque Restaurant and Bar on Highway 395 South in Gardnerville with a Picon Punch or two (locals advise against three). The restaurant offers an intimate setting for a traditional family meal while the relaxed and warm atmosphere of the bar successfully captures a snapshot of the hospitality that Carson Valley is so well known for.
Chicago Mike's Pizza offers Chicago style pizza in a friendly sit-down environment. With specialty pizzas like the Bear's Combo and Meaty Cowboy served on either thin crust or deep dish, you are sure to put your hunger to bed.
Share your pictures with us by using #whycv on Facebook, Instagram, and Twitter.