Not only is Carson Valley in Tahoe's backyard (or is Tahoe in our backyard?) but its location makes for the perfect wintry base-camp to all things outdoors. No crowds? Check. Hometown vibes? Check. Excellent food? Double check! Save this handy Google Maps list to your mobile device to easily find all the places listed here.  
Snowshoeing and Cross-Country Skiing
Here's the thing, after a good snow storm you can go almost anywhere and find a snowshoeing adventure. The hands-down best place is Hope Valley. In under 30 minutes, if you have your own gear, you can pull over on the side of the road, safely of course, and get going. One fan favorite is right off of Blue Lakes Road. There's miles of open US Forest Service land to explore. Need to rent gear? Hope Valley Outdoors has you covered. Located at Pickett's Junction where Highways 88 and 89 meet, this seasonal yurt provides snowshoe and cross-country ski rentals, lessons, guides, programs, and all-around great information.
Pro tip: If you don't connect with Hope Valley Outdoors, then be sure to get your recreation pass ahead of time. Under $5 for a single day permit, and $25ish for a whole year. You'll need access to a printer for the permits.
About 45 minutes west on Highway 88 is the Kirkwood Cross Country & Snowshoe Center. There's terrain for every experience level, 60 km (about 37 miles) of groomed skate and snowshoe trails, and rentals, lessons and fun oh my!
Pro tip: the Center is located before the main Kirkwood turnoff.
Ski and Snowboard Too
Ready to get some turns in? You can be on the mountain at Heavenly when everyone else is still digging out their car. Offering lessons, rentals, adaptive programs, and childcare (yep when the little ones get cold you can still shred). Heavenly has lots of convenient locations for you to kickoff your adrenaline rush. There are tons of options for your day of shredding so check their website for the down-low on pricing and passes.
Pro tip: hit the Nevada side of the mountain early.  
Hiking and Biking
Wait, what? Yes you read that right! Since the valley is at a lower elevation the snow notoriously melts off allowing you to enjoy the trails most of the winter. Oh sure there are some snow patches where the sun doesn't make it through the trees, but if you want to get outside and hike near Tahoe we have you covered. The Carson Valley Trails Association maintains 60+ miles of trail, so you can rock the mountain bike or hiking boots all winter long. Consider yourself warned about the mud, but rest assured the views more than make up for it.
Pro tip: wear layers. When the sun is out it's warm but the extended shade may necessitate a jacket.
Fuel Up and Apres
Here's where things get good. Fill up for a day outside at Katie's Country Kitchen inside Carson Valley Inn. They serve just about anything you can think of to start your day off right, and the chicken fried steak special just can't be beat.
For lunch, dinner and a sick selection of beer, wine and cider, look no further than Minden Meat and Deli. Burgers and paninis will have you salivating, but those in-the-know get the tri-tip salad.
DST Coffee is a local's favorite. Serving locally made ice-cream and coffee, this place begs for you to unwind and warm up.
When you've had a big day and really need to fill the hump, there is only one option: J.T. Basque. There's nothing small about the family-style meals served at this local legend. Once you sit down the food starts coming, and coming and coming. And then it's time for the entree. #NoRegrets The traditional cocktail Picon Punch will certainly warm you up but keep this in mind; one isn't enough and three is too many. 
Pro tip: if you can't decide between all the amazing entrees, opt for the steak with extra garlic.
And There's More
Even the most die-hard adventurers need a rest, but that doesn't mean you can't still have a great time. If history is your thing there are museums in Genoa, Minden and Gardnerville where you can get a peek of the lives of some early valley residents.
Antiques abound in the valley, and so do charming little stores filled with things you can't live without. The downtown's of Genoa, and Gardnerville deliver on the goods in a big way with nearby shops, bakeries and restaurants, while Minden delights with Minden Mill Distilling and it's quaint town square along Esmeralda Ave. that entices you with even more.
And last but not least – hot springs. If you want the resort experience with natural hot springs and access to delicious food, then Holiday Inn Club Vacations David Walley's Resort is your primo destination. They have multiple pools of differing temperatures, and on top of that you can stay in one of their home-away-from-home suites.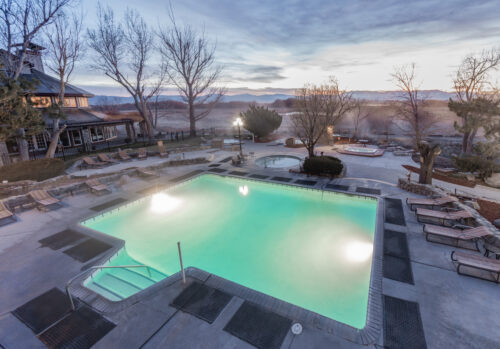 Whatever tickles your fancy, Carson Valley is a vibrant destination worthy of setting up your own base-camp, and take advantage of the best of winter. After all "If you don't do it this year, you will be one year older when you do" Warren Miller – iconic winter film producer.
Don't just take our word for it, explore our What To Do and Lodging pages to find what works for your vacation.