Ready to get outside? It's never been easier from Carson Valley, a four-part community that remains one of the Eastern Sierras' best kept secrets. From the best stargazing spots in Nevada, to bountiful fishing, great camping, crowdless trails, world-renowned air sports, and far beyond, in Carson Valley, we've got some fresh air with your name on it.
Nevada is known for its legendary Western histories, unbridled outdoor recreation, and iconic unending mountain vistas and vast basins, offering up wide open, public lands than any place else. And even though the Silver State beholds some of the darkest skies on the planet, more hot springs and rugged mountain peaks than any place else, legendary rivers and lakes with trophy sized trout swimming within, unending multi-use trail systems, air sports revered around the world, and unbeatable wildlife photography with the pros, really getting out there and seeing it all can sometimes require hours of driving in the car to a type of remoteness most people avoid, far beyond the cell phone towers, hotels, and other creature comforts we often rely upon. Well, that's certainly not the case with Carson Valley.
Situated a quick 45 minutes south of the Reno-Sparks metropolitan area and about 30 minutes from Lake Tahoe, experiencing Nevada's sterling Western legacies and infinite ways to get outside is unstuffy and uncomplicated. When it comes to ways to get outside, the array of diverse options and accessibility has never been easier no matter what season you plan to visit. So! Ready to discover the Great Basin's best kept secret? Read on for 7 ways to savor every season's recreational frontiers from spectacular Carson Valley.
Stargaze Nevada: Experience the Enchantment from Topaz Lake
Shielded from major metropolitan light pollution in just about every direction, Nevada beholds some of the best stargazing conditions on the planet, where thousands of stars, constellations, and planets all visible to the naked eye. And, just 30 minutes from downtown Minden and Gardnerville, discover one of the Great Basin's darkly coveted stargazing secrets at Topaz Lake. Nestled into the high country hills of the Eastern Sierra, this state-straddling desert lake should be high on any outdoorsmen's list, and it's all thanks to its reliable year-round fishing, hiking, and camping opportunities. But when it comes to the stars above? There's no better celestial escape than Topaz Lake.
Carson Valley's night sky viewing is stellar any time of year, but especially so from May through October each year when the Milky Way's galactic center stretches across the sky on full display. Catch the astronomical show of your life from the shores of Topaz Lake, where you and the whole crew can stretch out on big ol' white sandy beaches, a handful of full hookups campsites, or from dispersed camping options, too. Don't miss a handful of astronomical events on the horizon, beginning with Lyrids Meteor Shower (April), Delta Aquarids Meteor Shower (July) Perseids Meteor Shower (August), Draconids and Orionids Meteor Showers (October), and Lenoids Meteor Shower (November.) Be sure to pack along red light headlamps and flashlights for optimal night sky viewing, which helps preserve your and your campmate's night vision. Better yet, read up on the new moon schedule for the darkest possible night sky viewing conditions before you point the tires towards Carson Valley right here.
Hit the Trail: Hike, Trot, Ride and Pedal Your Way through Carson Valley Trails
There's a lot to relish at four communities in one destination. While each location prides themselves with their own personality-packed offerings, one thing they most certainly share is top-tier access to the great beyond, starting with over 70 miles of trails (and counting!) across six vast networks. Surrounded by some of Nevada's most spectacular mountain ranges—we're lookin' at you, Jobs Peak—it's never been easier to get out on the trail in Carson Valley, and around here, most are multi-use trails, where it's common to see hikers, cyclists, and equestrian riders sharing the same trail. Plan your trek on the Carson Valley Trails website, which provides unbeatable info about the Bently Heritage Trail, Clear Creek Trail System, Fay-Luther Trail System, Pinyon Trail, and all the info you want to know about hiking trails in Genoa, NV at the River Fork Ranch, Genoa Trail System,which provides all the details about trail etiquette, free parking, and trail maps, conditions and accessibility. 
Any OHV riders out there? Carson Valley's got a route with your name on it. Get the dirt on Nevada OHV trails and get ready to ride Carson Valley at Off Road Nevada. Here, a team of federal, state, and local pros have created your one-stop shop for maps, KMZ and KML files, rules and regulations, and everything else you need to know about riding 67-and-counting trail systems in Nevada, including the beloved few in Carson Valley at Johnson Lane, the Pine Nut Mountains, and more Douglas County OHV Trails. Click here to read up on how to ride safe, map out your route, locate OHV rental outlets, and much more.
Wildlife Photography Tours—Get Yourself Signed up For an Afternoon with the Pros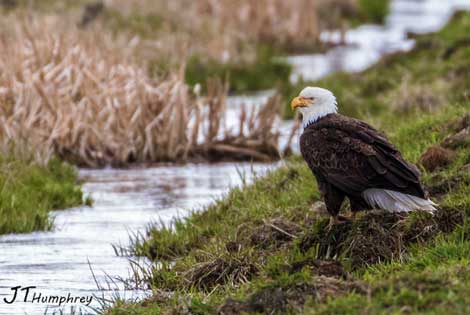 Nobody does guided wildlife photography tours like Carson Valley. Did you know more than 50% of America's wild mustang population roams through the Silver State? Better yet, some of Nevada's most famous, protected bands have decided Carson Valley's perennial creeks and streams, lush grasslands, and sheltered basin makes for an idyllic, permanent home, and we can't say we blame them. And among the majestic wild horses, some of the most well-known wildlife photographers in Nevada (and the West!) live and work in beautiful Carson Valley, guiding some of the only wildlife photography tours available in all of Nevada. Learn more right here about wildlife photography with many of the Carson Valley-based photographers, who use a wildlife first approach to keep both wildlife and tour-goers safe at all times, or stop by the Visit Carson Valley office for more information, and Carson Valley wildlife viewing tips and locations.
Carson Valley also offers something to awaken the bird nerd in us all, with hundreds of migrating and resident birds and raptors who depend upon Carson Valley's lush wetlands for refuge along their migratory routes. Be sure to pack the binoculars and cameras on this trip—you're gonna need them—with songbirds, finches, swans, mallards, hawks, falcons, and eagles perched on just about every fence line and power pole in sight. Embark upon a self-guided birding tour through the Valley, or attend the biggest avian extravaganza of the year at Eagles and Agriculture each January, hosted in the heart of downtown Gardnerville, NV. During one long wintry weekend, event goers can meet with wildlife biologists, area historians, and other bird nerds to enroll in wildlife photography excursions, historical barn tours, as well as see and interact with live eagles, owls, and other raptors up close, and of course learn why Carson Valley is the winter stopover for Bald Eagles, Golden Eagles, and muchmore. Ready to book the trip?
Ski Lake Tahoe—Live It Up Aprés Style from Carson Valley
With world-renowned outdoor recreation just 30 minutes up the mountain, and award-winning hotels and restaurants sure to fit any budget, you really can have it all in Carson Valley. Nestled at the foot of the Eastern Sierra, making Carson Valley your wintry basecamp puts you closer to Lake Tahoe Ski Resorts than ever, with unbeatable access to the state-straddling Heavenly Resort and Heavenly Village (brimming with family fun activities like ice skating, and cozy firepits and wintry beverages), Sierra at Tahoe, and Kirkwood Ski Resort. Once you've tallied up all the vertical feet you can muster, return back to Carson Valley for an evening of garlic-loaded steaks and Picons at JT Basque, or potbelly-stove-side cocktails at Nevada's Oldest Bar in Genoa.
Is your idea of a winter wonderland looking a little more chill? No prob. There are many locations in the Carson Valley to discover some of the region's best cross country skiing and snowshoeing, tucked away in the valleys below each mountain range or along a year round trail. A big basin tucked in Lake Tahoe's high elevation foothills, Carson Valley is also a magnet for snowshoers, with plenty of space to stretch out and see what that Sierra snow is all about.  Then, toast your day on the mountain from one of Nevada's oldest hot springs resorts from David Walleys, all from the heart of Nevada's oldest town.
Nevada Hot Springs, the Carson Valley Way
If you've come to Nevada, you're in the hot seat, with more flowing natural hot springs than any other state in America. Even though there are plenty of wild soaks out in the Great Basin across hundreds of natural bottomed pools and man made cowboy tubs, there's no better way to soak in style than a visit to one of Nevada's oldest hot springs resorts: David Walley's Resort. Even though hot springs resorts were once found all over the Silver State, nearly all of them accidentally burned down or have been reclaimed by the desert altogether—except a select few, including David Walley's Resort in historic Genoa, NV. The three Nevada hot springs resorts that remain all proclaim theirs is the oldest with the purest mineral contents, but David Walley's offers something nobody can deny: historical ambience, luxury overnight accommodations, and delicious dining steps from the source. 
David Walley's Resort once attracted Nevada's first pioneers, Virginia City's upper crust (including Mark Twain, who famously wrote about soaking here back in the 1870s), and even maybe a few Pony Express riders along the way, and truthfully, not much has changed here through the centuries. Take your pick from a large, family-friendly hot springs filled pool to splash around in, or slide into three additional hot tub-style pools, each varying in temperature sure to suit your liking. Whether you're fresh off the slopes and catching snowflakes on your tongue from a hot pool, or are relishing the Milky Way Galaxy stretched overhead during those cool, Eastern Sierra summer evenings, there's no better place to soak up some relaxation during your next Carson Valley adventure.
Grip it and Rip it at Carson Valley Golf Courses
Prefer your outdoor excursions to be a bit more manicured? We've got plenty of that too, and without sacrificing the view. Set against Jobs Peak and the majestic Eastern Sierra Nevada Mountains, golfing in Carson Valley puts you in the heart of some of the most beautiful landscapes in all of Nevada, with four award-winning courses right in the Valley. Searching for a golf course in Genoa, NV? We can't blame you—plenty of golfer's from around the world are wondering the same thing, and the answer is simple. There are two! At the Genoa Lakes Golf Club, go big or go home from two separate award-winning courses at the The Lake Course, or The Ranch Course. Over in Gardnerville, go big or go home from Carson Valley Golf Course, Sunridge Golf Course, or the Carson Valley Country Club.
Embark on Holy Gale of Air Sports: Glide, Dive, and Sail Carson Valley Skies
Your time in ruggedly beautiful Carson Valley is far from complete without getting a taste of its gliding conditions revered across the globe. Operating from the Minden-Tahoe Airport, sky-dive over Lake Tahoe, or sign up for an only-in-Carson Valley glider ride with Soaring NV. Glider pilots from all over the world come to Carson Valley for the holy gale of gliding conditions, which are based on ideal mountain wave conditions not reliably possible in other mountain towns across the country and world. With the glider pilot seated directly behind you, jump in an engineless cockpit where you'll be towed high above Carson Valley, then released for the glide of your life with views of the Eastern Sierra, Lake Tahoe and Emerald Bay, Desolation Wilderness, and far beyond.
Cast a Line and Stake Your Spot: Carson Valley Camping & Fishing
Trophy-trout in Carson Valley? Nope—not a typo. Stargazing is one of the reasons visitors and locals alike flock to Topaz Lake, but the truth is, this high desert jewel is an outdoorsman's paradise all 12 months of the year, offering up unforgettable fishing (as in reeling in 18-pounders any ol' day of the week), superblooms and unreal fall colors, great hiking, swimming and boating, and some of the best camping in Carson Valley. Offering up an unusual combo of dependable creature comforts and wildness, the outdoor scene at this high desert basin revolves around one place—the Topaz Lake Recreation Area. 
Situated on Topaz Lake's northeastern edge, Topaz Lake boating has never been easier with an on-site marina offering a year-round boat launch with two docks, a free fish cleaning station, and fishing licenses available for purchase. The Nevada Department of Wildlife stocks Topaz Lake with many different types of trout, including rainbow and tiger trout, though many other types of fish naturally thrive beneath the surface, like bowcutt trout, small and largemouth bass, brown trout, bullhead catfish, and even Lahontan Cutthroat Trout.  Remember, before you cast a line into these legendary waters, be sure to get yourself legal with a proper Nevada fishing license, which is conveniently available for purchase at the Topaz Lake fishing marina. And while you're here, "home is where you park it" has never been easier with Topaz Lake camping at 15 RV campgrounds with full hookups, and dozens more campsites ranging from primitive to dry established campgrounds. If you're looking for even more options, don't forget about the Topaz Lake RV Park just down the road, too. 
Fish your way back toward Gardnerville along the Carson River—one of Nevada's most pristine Wild and Scenic Rivers. So what does that mean anyway? Well, being a Wild and Scenic River is the nation's strongest form of protection for rivers and streams, but in order to classify it as such, the river must have remarkable scenic, recreational, geologic, fish and wildlife, or even historic structures in order to land this coveted status. And we can assure you, Carson River fishing sure lives up to this designation, with some of the best fishing spots at the East Fork of the Carson River along River Rock Road in between Gardnerville and Topaz Lake. Here, cast a line into fast moving, trout-packed waters for the afternoon, and if the fishing is too hot to consider leaving, nestle beneath the cottonwoods at your own dispersed campsite for the night.
Ready to book your next visit to the beautiful Carson Valley? Click here to learn more about our lodging opportunities.