While being outside around here reigns, so do the big time flavors found in award-winning restaurants all across the Valley. And from a sixth generation Dutch baker who knows his way around a croissant or two, to locally roasted coffees and hand-drizzled chocolates, classically trained French chefs with a Lebanese flair, the oldest bar in Nevada, beef, beef, and more beef, and locally distilled spirits, the Carson Valley food and drink scene knows no ceiling. And while knowing what's waiting for you at the end of the trail sure makes a satisfying adventure, the Carson Valley food and drink scene offers enough gastronomical delights you can sip, chomp, and savor your way through the Valley for a full culinarily-curated quest. Here are a few of our faves.
Coffee Shops, Cafés, Classy Charcuterie, and Sweet Treats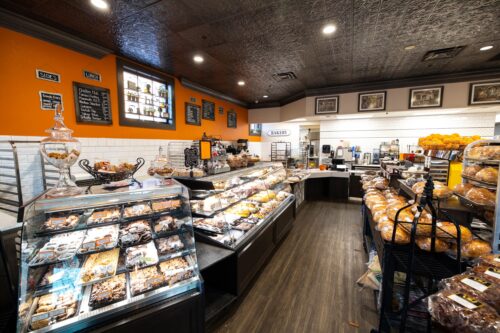 Start off your Carson Valley adventure fully caffeinated at DST Coffee, in downtown Gardnerville. Having opened just a few years ago, this Gardnerville coffee shop has commanded a loyal following and with fresh, locally roasted coffee and an impeccably cute coffeehouse vibe, it's easy to see why. Grab a coffee here, then browse Gardnerville's amazing antiquing scene and head for Schat's Bakery & Restaurant in downtown Minden. A sixth generation Dutch baker, the Schat family is gluten-famous, with restaurants in Bishop, Carson City, Minden, and pretty much everywhere else in the Eastern Sierra. All breads, cakes, desserts, and anything else you can bake in an oven is made fresh daily, with all kinds of excellent morning pastries to go along with your coffee, or plenty of options to get a jump on lunch, with delicious bread bowl-served soups, tasty sandwiches, and much more.
Speaking of absolutely scrumptious lunch options, don't miss Abby Jo's Café Girasole back in Gardnerville. Tucked in an unsuspecting strip mall right off Highway 395, this tiny café presents a big menu. Look for just about every fresh salad you can imagine, daily soup specials, gourmet sandwiches, fresh smoothies, and favorites that the locals can't stop ordering. If you'd prefer to snack your way through a meal, nobody in Carson Valley makes a better charcuterie board than The Pink House in Genoa. Served from within one of the oldest Victorian homes in Genoa (and Nevada), you won't miss this literal pink house right in the heart of Genoa's Historic District, offering delicious meats, cheeses, dried fruits and nuts, a long beer, wine, and cocktail menu, and a type of historic charm that can't be bought. Then, nurse that sweet tooth with the best chocolatier in the Carson Valley at Gardnerville's Chocolate Shoppe. If you can cover it in chocolate, they've got it. Let us put it to you this way: without biting into one of those handmade rocky road bark, sea-salted caramel truffles, or double dipped glaze orange peels, your Carson Valley culinary adventure is far from over.
Savor International Flavors at these French, Italian, Japanese, and Mexican Delights
Even though we Carson Valleians lean all the way into our Western roots and take seasoned meats very seriously around here, the Valley is home to some of the most satisfying flavors from around the world. Let those tastebuds know what French dining is all about from two unbelievable options here in Carson Valley, starting with Daniel's in Genoa. Proudly serving "country French cuisine with Old Nevada hospitality", the menu at Daniel's is pretty much always changing, though you can always rely upon treats like seared foie gras, made-fresh-daily soups, chicken cordon bleu, and grilled duck breast, to name a few. It's known as one of the best restaurants in Genoa Nevada. And over in Minden, stop by Woodett's Diner to sample old world flavors perfected by a classically trained French chef who's introduced many European and Middle Eastern flavors to the Valley. Stop by for breakfast or lunch any day of the week, or better yet, time your visit with one of Woodett's monthly French Bistro nights, offering a set menu of old world flavors you won't be forgetting anytime soon.
If you're feeling sushi—like really good sushi—don't miss Sakura Sushi & Poke in Gardnerville. In case you didn't know, northwestern Nevada is basically the all-you-can-eat sushi capital of the West (and probably country), with fresh fish flown or driven in daily for most of the region's large casinos that many locally owned sushi restaurants can reap the benefits of. Sakura is one of those spots, offering a long list of å la carte or AYCE super-fresh long and hand rolls, plus some of the best poke in the entire Reno-Tahoe region. 
One word: Quesabirria. Because who isn't in the mood for perfectly-marinated, slow-cooked beef melted in between a cheesy, crispy taco dunked in delicious sauce? Order some up at Fuentes Restaurant & Cantina in Minden, along with plenty of other options like true street tacos, giant margaritas, endless chips and salsa, and many more south-of-the-border delights. And pro tip: ask for the hotter sauce they've got hidden in the back—you're gonna know what that tastes like. Or, dig into homestyle Italian dinner from historic Esmeralda Street at Khristopher's Ristorante and Bar in downtown Minden. Offering a giant menu with just about everything you could possibly be in the mood for, this Americana-Italiano-style menu has everything from a Gorgonzola Scramble for special occasion breakfast, to classic antipasto and Mediterranean salads, to Tuscan salmon and chicken marsala for dinner—don't miss it. Tip: The Chicken with BBQ Cream Sauce Ravioli is a top favorite on the menu that you just have to try to understand.
Sliced, Seasoned, and Served with Garlic: Dig in to Carson Valley Meats
Savory meats is the name of the game in ranching-proud Carson Valley, and whether you're after a tender Basque steak sandwich, garlic loaded steaks and fall-off-the-bone lamb shanks, perfectly pressed paninis and specialty burgers, or a full-blown steakhouse experience, Carson Valley's got it. You can't come to Carson Valley and not have the full Nevada Basque experience with JT Basque, one of the best old school Basque boarding houses in the state operating from main street Gardnerville. Lean all the way into big flavor and lasting tradition from a locals-packed bar scene and family-style dining room with classic mint jelly-topped lamb shanks, garlic-loaded steaks, and a glimpse of one of Carson Valley (and Nevada's!) most charming cultural identities.
Across the street, order up everything from elevated pub-style appetizers and craft cocktails at one of the best happy hours in the Valley at The Overland Restaurant & Pub in Minden. The burnt ends flatbread, beer battered cheese curds, and piggy poppers is enough to lure hungry Highway 395 drivers off the road and into the dining room, but if you're more in the mood for a full-blown meal, The Overland in Gardnerville offers one of the best farm-to-table menus in the region, with a local sausage platter we just can't stop thinking about, smoked pork belly mac-n-cheese, ribs smoked to perfection, and far beyond. Keep the excellent happy hour service going in Genoa at the 1862 David Walley's Restaurant and Saloon, because as far as we're convinced, nothing works up an appetite like floating around in the most historic hot springs in Nevada for the afternoon. Part of the David Walley's hot springs property, order up everything from casual smokehouse wings or BBQ nachos all the way up to a filet mignon with a side of big mountain views. Either way, flowing cocktails and natural hot springs water knows no bounds around here.
Back in Minden, don't even think about missing out on Minden Meat and Deli. With a regional cult following, you can't go wrong with this locally sourced menu of mouthwatering sandwiches, wraps, burgers, sausages, and more. Refuel with a casual lunch here with the locals, with options like the Turkey Pesto Panini, Tri-Tip Salad, BBQ Burger, Not Your Mama's Grilled Cheese, and Meatloaf Panini, to name a few, all served with a heaping basket of house made fries if you so choose, and one of the biggest on-tap beer selection in town. However, if you've got a hankering for a tried-and-true, classic steakhouse experience, salivate no further than The Steakhouse at Topaz Lodge, offering 50 mile views alongside cozy steakhouse vibes, and of course plenty of tender steaks to choose from. And better make sure to secure your reservation at CV Steak at the Carson Valley Inn. At this Carson Valley steakhouse, think gourmet without the pretentiousness, with a friendly ambience in an upscale dining atmosphere offering steakhouse classics like twice-baked potatoes, an unending wine menu, and pretty much every cut of perfectly seasoned, tender steak you can sink your teeth into.
The Oldest Bar in Nevada to the Newest Mill in the Silver State and Every Spirited Sip in Between
The oldest bar and the newest distillery? You bet. Start sipping your way through the Valley at the back of the history books with a stop at Genoa Bar and Saloon in Genoa—Nevada's oldest town. Open since 1853, this bar has survived actual gunfights in the streets, the prohibition era, many decades of owners, and has the mid-1800s era patina to prove it. Serving ice cold draft beer, "world famous" Bloody Mary's, and tales just about as tall as Mark Twain's (who was most definitely a customer here once, along with a long list of other US Presidents, Western movie stars, and other celebrities), you're going to want to see this place with your own eyes.
And from the oldest saloon in Nevada to one of the newest, be sure to stop in and check out Minden Mill Distilling, which serves finely distilled gins, vodkas, and whiskeys from a century-old mill with a million-dollar facelift. Located in the middle of historic Minden, the Minden Mill originally operated as the town's flour mill, made possible by Carson Valley forefather H.F. Dangberg, and converted into a world-class distillery operation just a few years ago under a different ownership. As of the summer of 2023, this amazing distillery has reopened once more, now as the Minden Mill, offering unbeatable distillery tours and even better samplings. Be sure to stop in for a tour and a taste. And if you're looking to stock up on everything from regional wines, whiskeys, gins, and vodkas all the way to those hard-to-find, special reserve spirits, Battle Born Wine & Whiskey is your spot. Located downtown Gardnerville in a building that's just about as old as the town itself, it's here where you'll find the area's best spirits collection, with all kinds of wines, beers, and every other hard liquor in between.
Have we piqued your palette yet? While those mentioned in this article are a great place to dig into when it comes to Carson Valley's food and drink scene, the truth is this is only just the beginning when it comes to excellent restaurants and bars around here. Read up on even more Carson Valley food and drink right here, leaving those taste buds salivating for more.